21 Apr 2015 -

10:15

to

19:30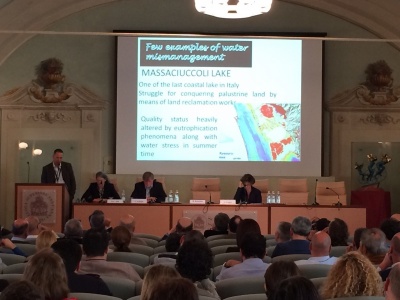 On April 21st at Scuola Superiore Sant'Anna (Pisa-Italy) took place the workshop "Advantages of using numerical modeling in water resource management and in Managed Aquifer Recharge schemes", a joint event organized by the HORIZON 2020 FREEWAT project and the EU FP7 MARSOL project (www.marsol.eu) and within the framework of the European Innovation Partnership MAR Solutions - Managed Aquifer Recharge Strategies and Actions (AG128). A number of about 130 participants attended the workshop from the research, water authorities, water utilities and professionals world.
The MARSOL (Demonstrating Managed Aquifer Recharge as a Solution to Water Scarcity and Drought) project started in December 2013 and its main objective is to demonstrate that Managed Aquifer Recharge (MAR) is a sound, safe and sustainable strategy that can be applied with great confidence and therefore offering a key approach for tackling water scarcity in Southern Europe. Key approach is a combination of monitoring and modeling for both water quantity and water quality at 8 different field sites in the Mediterranean.
In the FREEWAT (FREE and open source software tools for WATer resource management) project (starting April the 1st 2015), the aim is to develop the FREEWAT platform which will be an open source and public domain GIS integrated modeling platform for the simulation of water quantity and quality in surface water and groundwater, with an integrated water management and planning module.
FREEWAT includes hydrological and hydrogeological models for flow and transport (including variable density models for the simulation of seawater intrusion), a dedicated module for water management and planning that will help to manage and aggregate all the distributed data coming from the simulation scenarios, a whole module for calibration, uncertainty and sensitivity analysis, a module for solute transport in the unsaturated zone, a module for crop growth and water requirements in agriculture and tools for dealing with groundwater quality issues.
The main objectives of this workshop were 1) to gather a number of researchers, consultants, administrators and stakeholders interested in learning about how simulation models have been applied to address scientific and resources-management questions in Europe and in the US, 2) to present and discuss the importance of using numerical models for water resources management and, in Europe, for the implementation of the Water Framework Directive and related Directives, and 3) to promote the discussion about how to use models and how to present modeling results to different groups, such as stakeholders, decision makers.
The speakers presented their experiences providing guidelines on the importance of combining open source modeling approaches to stakeholders involvement in order to improve water resources management. These included both water quantity and water quality issues and on innovative management schemes (such as MAR). Current challenges that will be dealt include, among the others, understanding the aquifer's response to drought and climate change, protecting the quality of water, limiting subsidence caused by groundwater pumping, and implementing aquifer storage and recovery programs, water uses in rural areas.
Click here for seeing Workshop Programme
Presentations of the Joint Workshop