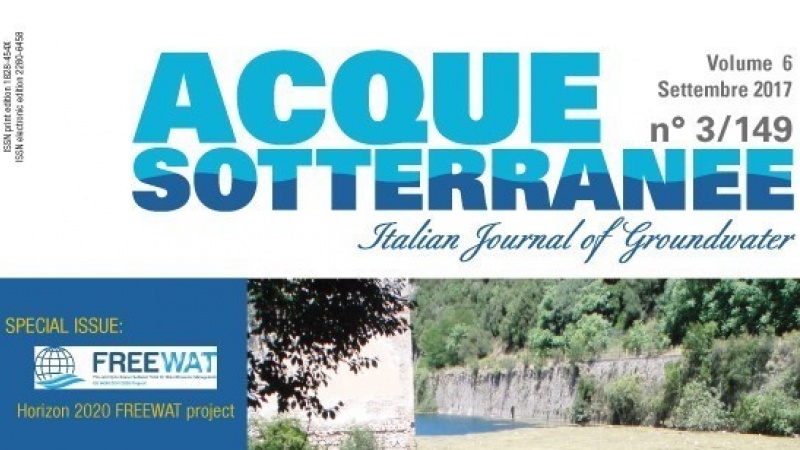 Acque Sotterranee – Italian Journal of Groundwater dedicated a whole issue (n° 3 of Volume 6 – September 2017) to the FREEWAT project activities.
Acque Sotterranee - Italian Journal of Groundwater is one of the oldest European journal dealing with groundwater issues. It is an open access (recognized in the Directory of Open Access Journal), no-fee, peer-reviewed journal issued under the patronage of the Italian Chapter of the International Association of Hydrogeologists (IAH-Italy) and of the Italian National Institute for Environmental Protection and Research (ISPRA). Its main goal is to link together the academic world, professionals, authorities, private and public companies by publishing peer-reviewed, open access scientific and technical papers, short notes, reports and column essays dealing with groundwater resources. The third issue of Volume 6 (September 2017) hosts the following contributions:
An editorial column, where Rudy Rossetto (Scuola Superiore Sant'Anna, Italy) and Iacopo Borsi (TEA SISTEMI S.p.A., Italy) introduce the content of the special issue;
A technical paper authored by the Steering Group of the FREEWAT Consortium. In such paper, the FREEWAT platform concept is presented and an overview about technical activities carried on within the H2020 FREEWAT project is presented;
Four technical papers presenting the results obtained from the application of the FREEWAT platform to four case studies: Vrbanski Plato (Slovenia), Follonica-Scarlino (Italy), Bakumivka catchment (Ukraine), Palas basin (Turkey). These contributions were authored respectively by the representatives of the Slovenian (IEI), Italian (Regione Toscana), Ukrainian (Taras Schevchencko University of Kiiv) and Turkish (University of Ercyies) partners of the FREEWAT Consortium.
Finally, a column essay describes the capabilities of the FREEWAT platform in dealing with rural water management and solute transport modelling.
All the papers can be downloaded for free at the following website: http://www.acquesotterranee.online/index.php/acque/issue/view/23