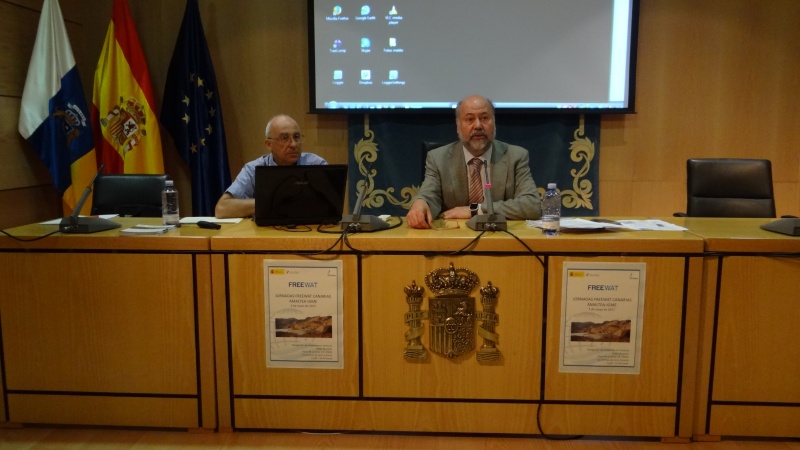 The FREEWAT platform was presented to Canary Islands stakeholders, pointing out its potential advantages to improve hydrological plans in the Islands. A meeting was held on May 3, 20017 in the main meeting room, at the Government Delegation building in Las Palmas de Gran Canarias. Miguel Garcia, Zeta Amaltea's CEO, introduced FREEWAT to more than 25 attendees, comprising people from water management institutions in the Autonomous Community of the Canary Islands, universities, research centers and water users. Private companies dealing with water services in the islands have also attended the meeting.
The meeting started with the presentation of FREEWAT, the Amaltea's case study and a technical introduction to the effects of Climate Change in water resources management, particularly in Canary Islands. Further, a colloquium was held on the actual compliance of European Water directives in Canary Islands, Island' laws regarding water ownership, private management of waters, insularity related problems and The Macaronesia region particularities. General questions were accepted later.
The differences in water management in Canary islands from other European territories were pointed out. Issues such as the private character of the waters, secular tradition and important legal connotations (property inheritance, private investments in infrastructures and private water markets, etc.) make the Canary islands a quite special region regarding water management. Furthermore, each of the seven islands of the archipelago has its own water authority, coordinated by a regional entity, and its own hydrological plan. The infrastructures of capture, storage and transport of water are diverse and disperse, which make difficult and expensive their management.
There are many problems in the Islands regarding water management and planning according to the WFD criteria, besides lack of basic information and professional personnel. FREEWAT simulations could be a first step to indicate the main failures and the improvement directions.
The threats of climate change are actually an opportunity for change water management in Canary islands.  The FREEWAT community, as a working group between Amaltea and IGME will be an important step in that direction. Amaltea and the IGME will promote a FRREWAT-based change of water management in Canary Islands,  towards a scheme more in line with European directives and capable to deal with the climate change threats. This attempt might include other insular territories, such as Azores, Baleares, Malta, Greek islands, etc. with similar situations regarding water management and EU Water directives fulfillment. The Spanish FREEWAT community will organize a specific working group regarding water management in islands, addressing insularity as a specific issue within the European framework.