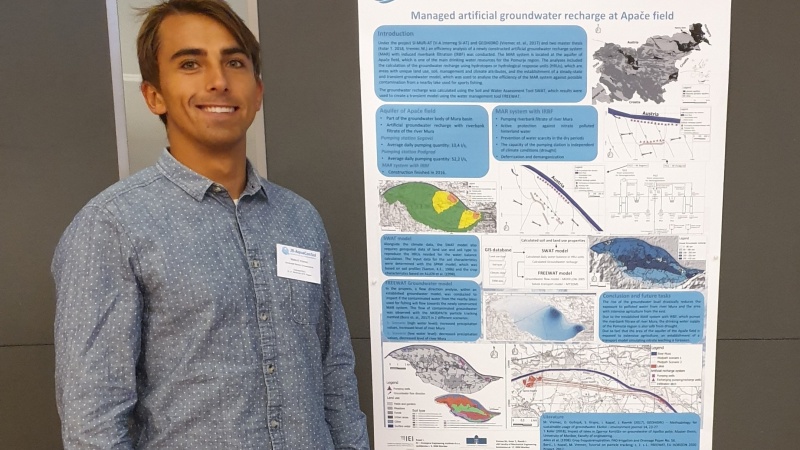 In the last 20 days, two FREEWAT contributions were presented at two conferences by our Slovenian partners, who keep using FREEWAT as a tool for water management at MAR sites. 
The KGM-Modreg conference was organized by the Joanneum Research company JR AquaConSol. The conference was held near Leibnitz (Steiermark, northern Austria) at the premises of the castle "Schloss Seggau", on the 20th and 21st of November 2018.
The KGM-Modreg conference aimed to present the practical implementation of modelling in a regional perspective. The conference allowed the community of hydrogeologists, water resource company representitives and other stake holders to exhange their ideas and knowledge on the aspects of numerical modelling of grounwater flow, solute transport and heat transport in shallow aquifers. Within the sessions, some results of the FREEWAT were presented under the aspect:
Matevž Vremec (University of Maribor) presented the FREEWAT platform as an example of innovative ICT tool aimed at managing an Induced RiverBank Filtration MAR plant at Apače field. The related conference paper is available here and the poster presented within the conference is available here. 
The 29th Mišič water day 2018 (29 Mišičev vodarski dan 2018) was organized on 6th December 2018 by the Water Management companies VGB Maribor and VGB Ptuj in collaboration with the Ministry of Environment and Spatial Planning and the Municipality of Maribor and was held in the Maribor National Hall, Slovenia. The Mišič Water Day was intended for all experts in the field of water management, regulation and protection. During the day, ongoing projects and innovations in the water sector were presented, as well as successfully implemented knowledge in practice from the private sector, summarizing the results and problems encountered by engineers in the management, regulation and water protection.
The conference was also an opportunity to present the usage of FREEWAT in two different projects:
Execution of remediation work due to a heating oil spillage, where FREEWAT was used in the planning process,
Geohidro, where FREEWAT was used to examine the efficiency of a newly constructed managed artificial recharge system.